A Holiday Gift Guide For The Financially Frozen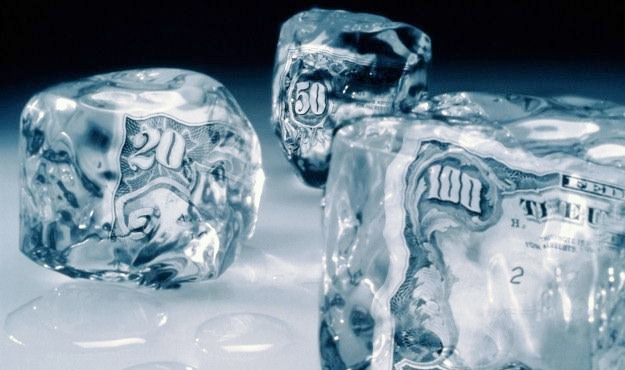 After posting gift guides for mom, for minimalists, for kids with ADHD and Sensory Needs earlier this holiday season, I received endless comments about what to do when the gift-giver's budget is strapped. Have no fear shoppers! This list comes from a couple who still, twelve years later, make a DIY gift for each other every single Christmas because we've just never had deep pockets. Our kids still receive homemade gifts from us as well giving DIY gifts to others in our family.
So get your list ready because the items listed below can be made from regular household items, upcycled hand-me-downs, or things you can find in dollar stores and thrift shops. Each age group of gift recipients is categorized by age and even includes your household pets! Simply click the links provided to specific instructions and material lists. Enjoy!
For Kids Ages 1-4:
Kitchen Stove Set-We made this for our one year old and even her six year old brother loves to play with it!
Felt Toolbox or Doctor Kit-This is great for kids of all ages and we love that it can't hurt anyone!
Onsie Lovey-Such a cute and sentimental idea. You can't go wrong with this!
Magnetic Letter Board-Educational and super easy…we love all those words!
For Kids Ages 5-8:
Science Kit-These are BEYOND cool and totally educational! You will win at parenting with this gift!
Library-This is such a cool addition to any kid's bedroom or playroom and you can use books they already have!
Playhouse Fort-For the cost of some PVC pipe (or old stuff you already have, plus old bed sheets, you can create endless hours of creative play for the kiddos in your life!
Fold Out Sleep/Movie Mats-I made one of these for my niece and I slayed Christmas! She uses it all the time and loves it and it only cost me a couple of dollar pillow cases and pillows I already had in a closet.
For Kids Ages 9-12:
Hacky Sack-I can make this and I can't sew! This is a sure-fire hit to keep kids busy and it involves no screen time!
Sharpie Mug-This is a brilliant hack using nail polish and dollar store coffee mugs! You can use a Sharpie marker and back at 200 degrees for 30 minutes and personalize each one!
Scarf-It doesn't get easier and freer than using an old T-shirt to make a soft, trendy scarf! Moms would like this gift as well!
No Sew PopTart Pillows-With nothing but some easy decor and fabric glue you can make a hilarious and trendy addition to any kid's bedroom!
For Teens:
Bath Bombs-My teen nieces love these so much they are requesting them this Christmas!
Personalized T-Shirts-You can make your own or buy the downloadable design for super cheap. These are a great way to personalize a gift so it is especially for the receiver!
Movie Basket-Whether you personalize the items inside for the specific movie (like candy, syrup, and Coke with the movie Elf) or whether you just give snacks like popcorn and candy with a Redbox giftcard, this is a hit gift no matter who gets it!
Tie Blanket-Whether you go with this mermaid tail pattern or the regular rectangle, these are a no sew option that will keep them warm all winter long!
For College Students:
Household Item Basket-Someone gifted this to me when I was leaving for college and I thought it was lame…until I moved in! This is the BEST GIFT EVER! No one thinks about needing paper towels and Clorox wipes until they don't have them. You can save the day with this gift basket you can throw together in minutes!
Food Basket-I was especially sold on the idea of using a box of Ramen noodles as the bottom of your basket on this one! Fill 'er up with all varieties of cheap snack foods and you will feed them for weeks…or days!
Face Scrub-These cover face scrubs, lip scrubs, blackhead remover scrubs…you name it! This can come in handy for the college student who has a steady diet of beer and Ramen so their clogged pores are in need of rescuing!
T-shirt Blanket-This no sew option is a great way to commemorate their childhood and high school years as they move into adulthood…plus, it's warm!
For Your Significant Other:
Dates for A Year-This takes a lot of planning but it is SO worth it! I made this for my husband two years ago and it was the greatest!
Paper Flowers-My husband made these for me once and I was both blown away by his thoughtfulness since we didn't have money for the real thing (and they'd just die anyway), and that he was creative! These are super easy and fun even for the kids to pitch in on!
365 Reasons Why I Love You-If you don't already have a jar, they sell these at the dollar store and the paper is easy to find laying around the house. This is an excellent gift so the special person in your life can have a daily reminder of why they are cared for by you!
LoveOpoly-Personalize this one however you'd like but let me tell you how big of a hit this was with my husband! We have played it and died laughing every time! I hate Monopoly and his family loves it so it meant that much more to him that I thought to make this about our life together.
For Moms:
Spa Kit-This whole thing fits in a Mason jar and is SUPER cute and practical. What mama doesn't want to relax!? It will be an even bigger hit if you volunteer to give her the time to use it without kiddos running in on her in the bathroom!
Essential Oil Gift Set-This takes some work but the payoff is great, especially for natural mamas!
Personalized Tote Bag-This super cute bag can be made from a plain tote mom already owns and a paper doily! It is trendy and thoughtful and, let's face it, all moms have baggage!
For Dads:
Beard Oil-Whether we want them to be or not, beards seem to be a trend that is sticking around. So, why not at least make sure that dad keeps his face mane in check? These are easy to make and even come with free printable labels!
Mustache Mug-This hilarious gift is good for almost everybody (except maybe Aunt Agnes who actually has a mustache). All you need is a Sharpie marker and a dollar store mug to give a lifetime of laughter over coffee or tea!
Car Kit-Every item in this kit can be bought at the dollar store all the way down to the bucket they come in! What a practical gift that will be used all year round.
For Grandparents:
Monthly Birthday Chart-Personalize it with whatever saying you like, but this brilliant organizational decor is made from an old scrap piece of wood, some paint, and wooden discs found at any hobby store for less than $2!
Changeable Photo Board-We personalized this last year for my folks and they loved it. It is easy to make, costs nothing, and is super easy for them to change out photos with each new school picture!
Photo Coasters-This is super easy even for the non-creative types. Plus, every grandparent uses coasters!
Send A Hug-We have always lived long distances from family so this is a GREAT gift to send at the holidays or any time. It is free, easy, and really fun to make!
For Friends:
Photo Monogram Letters-For the cost of a $2 letter at the craft store, you can chronicle a lifetime of memories with your friend.
Letters to Open When-Everyone has hard days. These open-ended letters are given for your friend to read on specially designated days. They are super thoughtful and free!
Friendly Guess Who Game-This may be the funniest gift of ALL TIME! Personalize your favorite childhood game with pictures from an old yearbook or family photo and you will laugh until your bellies hurt. You can thank me later!
Personalized Mug-I ran an Etsy shop for a while and sold a TON of these. What a thoughtful gift for the friend who moved away!
For Pets:
Sweatshirt Bed-My nephew actually made one of these at an SPCA summer camp and it was such a cute idea and super free (because we all have old sweatshirts laying around). Keep Fido warm all winter long.
Leash and Treat Board-For the cost of a ring and a coat hook from the hardware store (less than $3 total) you can personalize this super cute and functional rack for your pup's leash and treats! For the extra craft, turn an old Clorox wipe container upside down, covered in paper, and stuffed with grocery bags and you have a doo-doo bag dispenser all on the same rack!
Homemade Treats-This link has recipes for 35 different treats for cats and dogs that are easy and cheap!
Upcycled Treat Jars-These are super cute and cost next to nothing to make! Add a little flare to your treat jar and it won't be an eyesore on your counter–a gift for you and your pooch!
As I said, we are a family of DIY gifters so we hope you enjoy making some of these thoughtful and crafty creations for those you love. Merry Christmas!